Traffic loss is one of the most popular issues that can face SEO specialists, traffic can not go up forever and each website at some point will face a traffic loss situation that needs to be diagnosed. To help you to diagnose a traffic loss situation I will take you first thorough the most popular reasons to lose organic traffic, understanding those reasons and learning how to monitor them will make diagnosing traffic loss an easier task.
Most popular reasons to lose traffic:
1- Ranking loss:
Position #1 in the SERP can enjoy 30% or more click through rate, after that CTR will go down for every lower position in the SERP, position #10 can get 5% CTR or less. If a website losses ranking for highly searched keywords, the overall organic traffic will go down.
The most popular reasons for ranking loss are:
Algorithm updates (search engines like Google runs multiple updates every year).
Losing authority (e.g. Losing a lot of quality inbound links) or slow link growth.
Losing popularity (e.g. Less social signals and lower branded searches).
Website stagnation (no new content or no content refreshment).
CMS change or content change (e.g. website redesign which can include CMS change, URL change and content change).
Increase in competition, competitors could be providing better content and promoting their website more, so they get higher ranking.
Technical issues with search engines like crawlability, indexability, downtime, slow loading and manual actions.
2- SERP layout Change:
Google keeps changing the SERP layout, putting more ads at the top sometimes or featured snippets which can affect CTR while keeping the same ranking.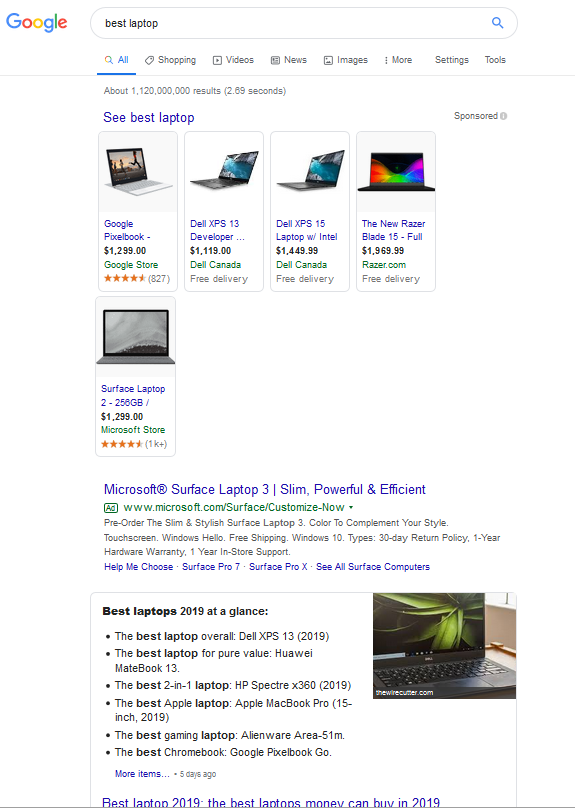 In the example above even a website ranks #1 it will be still below the fold, which can bring CTR significantly down, so we are not going to enjoy 30% CTR being number one anymore, we could be receiving 10% CTR only with the new layout.
3- Trending change and user behaviour:
Human needs and behaviours change throughout the years. Products and brands get disrupted sometimes and that can change search volume. A product like mini DVD has been disrupted by smart phones and tablets, what brought the search volume for it close to zero: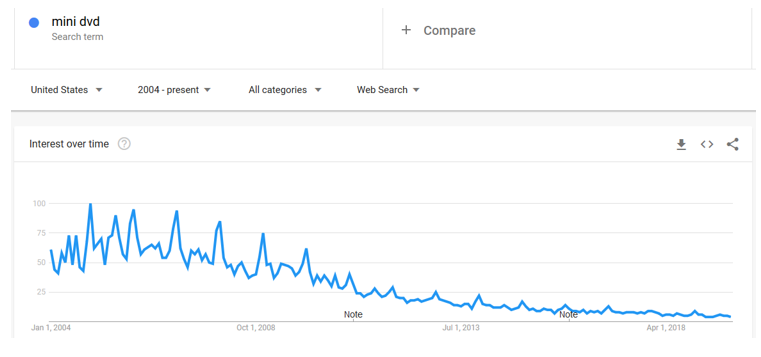 Another example could be online dating, the need for dating did not decline nor the need for online dating, but social media websites like Facebook are becoming a go-to destination for people that are looking for dating, which brought down the interest for the keyword online dating: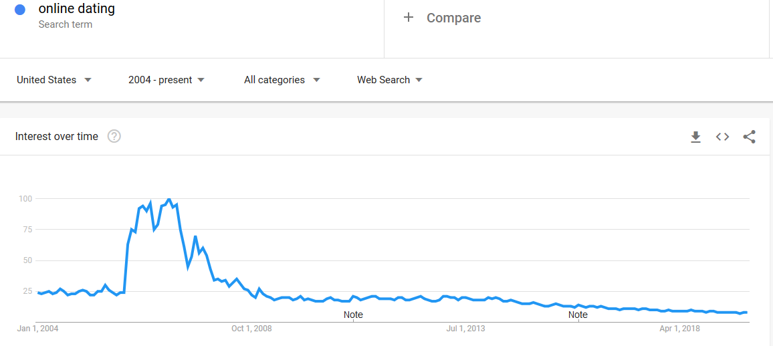 Step by step traffic loss audit:
Now that you know the most popular reasons to lose traffic, it is time to run some analysis on key metrics that can help us to evaluate a website against each traffic loss reason.
1- Identify which keywords are losing traffic using GSC:
Any traffic loss will be linked eventually to ranking and search volume for the keywords that are driving organic traffic, when a website is losing organic traffic the direct reason for that is either some keywords are getting less traffic or less keywords getting traffic, so the main focus of any traffic loss audit should be identifying which keywords are losing traffic, thankfully this analysis is made easier with GSC, just use the comparison feature and choose the too time spans that you want to analyse for traffic loss and identify which keywords are causing that loss: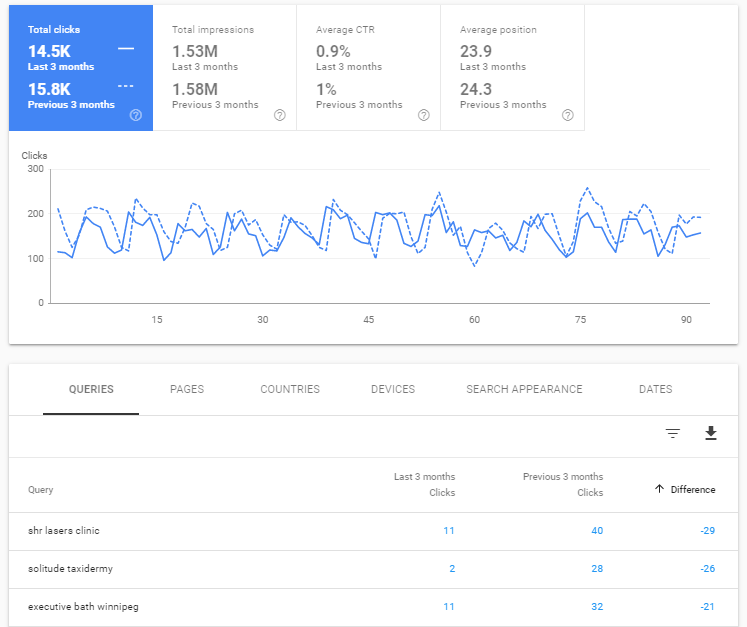 Once you identify the keywords you need to assess what is causing them to lose traffic by running them against the reasons of losing ranking explained above.
2- Check the brand name in Google trends to make sure that the brand is not losing any popularity.
Run the checking for the last 5 years in the target audience country.
3- Link profile analysis:
Check the domain using Majestic SEO or Ahrefs to see if there is any recent link loss, the screen shot below is taken from Majestic: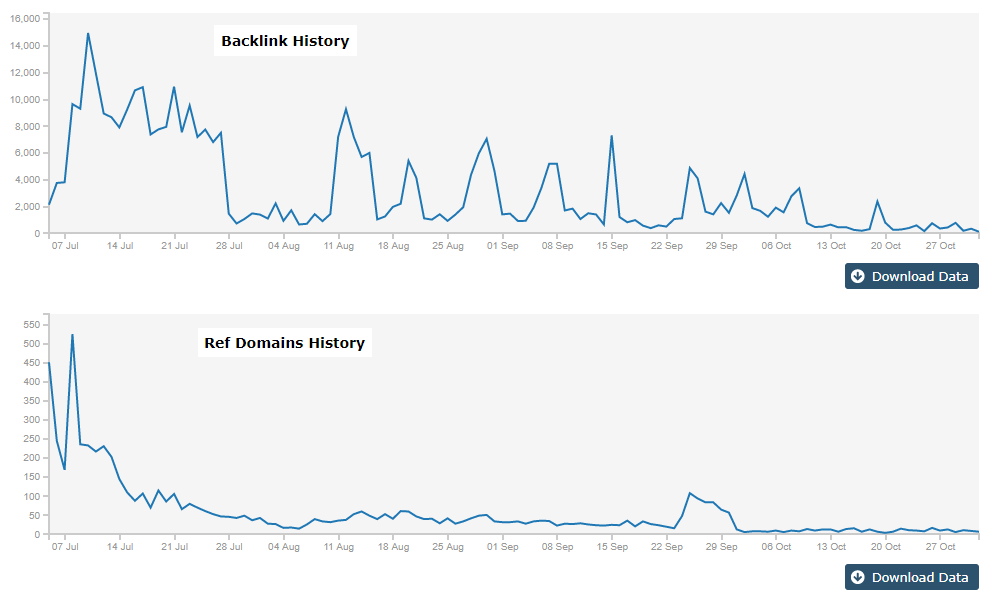 Link loss will lead to lower authority which in most cases will cause ranking loss.
4- Check index growth in Google Search Console:
This will help to identify any deindexation issue:
Losing more indexed pages means losing ranking for any keywords those pages are ranking for. Deindexation could be a result of:
Technical errors in the website (e.g. server errors or very slow load time).
Duplicate or thin content.
Issues with setting up the canonical tags.
Algorithm update that affect crawling standards.
Losing authority (e.g. the link profile is getting weaker).
Summary:
Organic traffic loss can happen to any website, diagnosing the situation and finding the reasons behind it is not quick nor easy in most cases, sometimes you get lucky to find out that a technical issue on the site caused it, the webmaster can fix it quickly and things will go back to normal in few weeks, but for most other cases recovering may not be even possible or can take a very long time. The key thing when it comes to traffic loss is finding about early and start reacting to it immediately.